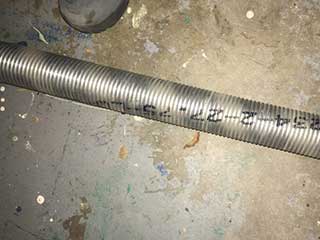 The springs aren't the most complicated or high-tech part of an automatic garage door system. If they break down though, your door is still dead in the water – at best. Even if you can still open your garage door on a broken spring, doing so is likely to cause much more expensive parts to break too. At worst this could lead to a dangerous accident when you're trying to get in or out of the garage! You're best off solving broken spring problems as quickly as possible so you don't spend more time unable to get your car in or out. Garage Door Repair Apple Valley's services are available as soon as you need them, with or without advance notice, anywhere nearby.
Why Do Garage Door Springs Break?
A broken garage door spring doesn't mean you did anything wrong. These components have a very hardworking lifestyle, and they can only keep doing it for so long! When you buy a new pair of springs, they come with a written estimated lifespan measured in lift cycles. You can keep track of how many times you've opened your garage door since the last spring replacement to see when you'll need another. Keeping your garage door clean, oiled, and well-maintained will help the springs last longer, but sooner or later they'll reach their limit. If you know when this is coming, you can arrange to replace them before they break and avoid that hassle and inconvenience. If they break before expected, you can minimize the aggravation by using our cheap, same-day emergency replacement services anywhere close to Apple Valley.
The Hazards of Spring Replacement
Replacing old or broken springs is a fairly routine procedure for professional garage door technicians. It's much harder for untrained laypeople though. In fact, it's very dangerous! The high pressure that the springs work under means that they can very easily snap free with great force when you're trying to install or remove one. People are hospitalized every year because of amateur garage door spring replacement attempts. Take advantage of your local Apple Valley professionals' low prices and immediate service, and avoid unnecessary risks.
Broken Spring Repairs Anytime & Anywhere Near Apple Valley
Our same-day spring replacement service is available three hundred and sixty-five days a year, early morning to late evening. The longer you wait with a broken spring, the more headaches you're likely causing for yourself. Call Garage Door Repair Apple Valley today, and let us replace your broken spring fast and cheap!